Every February we look forward to attending the International Builders Show in Las Vegas. Hosted by the National Association of Home Builders (NAHB), we learn about so many new technologies and innovations while we are there. The highlight of the event is always the Best of 55+ Awards. This year was especially fun because we won two more awards for The Springs of Mill Lakes Dorset Model!
Awards Won!
Homeworks competed against builders from across the country and won for the second year in a row. Awards received include a GOLD Award for "Universal Design Home for 55+ New Construction" and a SILVER Award for "Interior Merchandising of a Model."
We work hard to provide quality homes for our clients. We are thrilled and grateful to receive this recognition again from NAHB.

Allan Campfield
What is Universal Design?
The dictionary defines Universal Design as "the use of products and environments to be usable by all people to the greatest extent possible." This approach is not exclusive to Homeworks of Alabama. What is unique to us is the way we integrate Universal Design into the beauty of this special development.
We begin by incorporating no-step entry, one-story living, wide doorways and non-slip surfaces into the home. Then, we add stately columns, an inviting front porch and spacious interior spaces. With all of this thoughtful design, we ensure that the development will be a landmark in the community for years to come.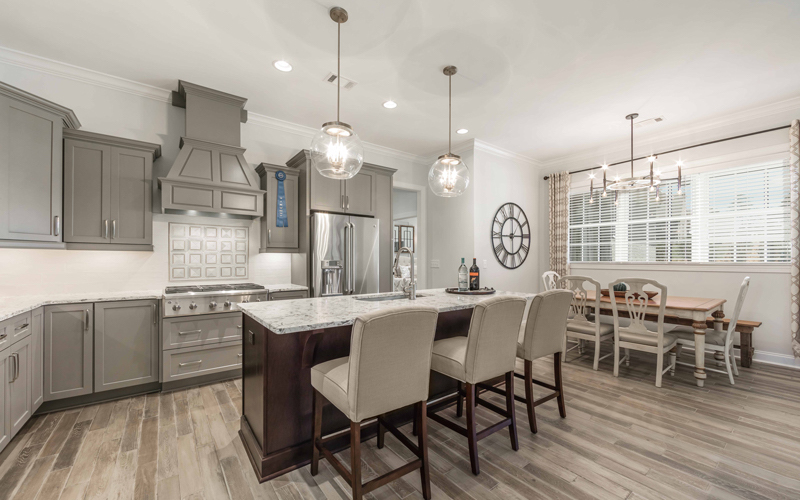 We are so proud to receive this honor. The Dorset model is a shining example of our approach to Universal Design and our commitment to providing our clients with exceptional homes.

Lisa Campfield
About the Best of 55+ Awards and the National Association of Home Builders
Founded in the early 1940's, Washington, D.C.-based NAHB is the voice of America's home builders.  The International Builders' Show is the world's largest convention of its kind for the residential and light commercial construction industry. Interested in learning more? Click here!